If you haven't met...
Mindy Friddle yet, then a delicious surprise awaits you. This fellow GCC Tour author is an award-winning Southern novelist whose latest book,
The Garden Angel
, is just out in paperback--and here are just a few of the glowing reviews from some very big-deal sources.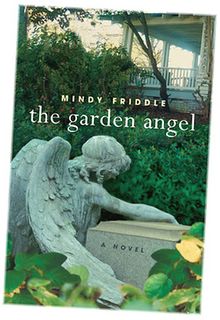 "Mindy Friddle has a great comic touch, and her novel is a touching, heartfelt debut."
-Richard Russo, Pulitzer Prize-winning author of Empire Falls"Friddle has a way with the comic yet apt image...funny, down-to-earth and steeped in a sense of place."
-The Washington Post"A comic delight....Winning characters and piquant wit, with an underpinning of graciousness: a standout."
-Kirkus Reviews (starred review)
Mindy herself is born-and-raised in South Carolina where the novel is set...here's the synopsis:
In Sans Souci, South Carolina, talk is cheap, real estate even more so. No one knows this better than Cutter Johanson, a gruff tomboy who waits tables, writes obits, and makes every effort, however comical and in the face of her mercenary relatives, to avert the sale of the dilapidated ancestral home. And despite her plucky resolve, all appears to be lost---until she strikes up an unlikely friendship with Elizabeth, a shy and fragile academic who puts both their fates on the mend.
Hear more about Mindy's own Sans Souci, South Carolina, upbringing at her website, , www.minyfriddle.comor hear from her directly at her blog, "Novel Thoughts", www.publishersmarketplace.com/members/friddmi.